Paul G. Stewart Center
Paul G. Stewart Center
400 E. 41st Street
Chicago, IL 60653
Phone: 773.924.2100
Fax: 773.924.9794
Office Hours
Our office is currently closed due to the "Shelter In Place" order set by the Illinois Governor.
Normal Business Hours:
Monday through Friday 9:00 A.M. to 5:00 P.M.
Saturdays by Appointment
Sundays - Closed

Our Open House starts back April 2020 from 12:00 p.m. to 3:00 p.m.
Print Pages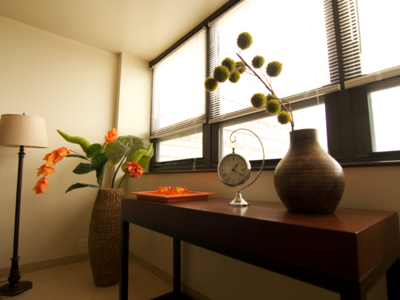 COVID - 19 Testing and Care
Thursday, June 4, 2020, 10:00 a.m. - 2:00 p.m. Paul G. Stewart Center 400 E. 41st Street
Your First Choice For Affordable Luxury Living For Seniors
Our residents enjoy the most enriched living experience in Chicago. Enjoy the ease and convenience of an outstanding affordable luxury senior residence nestled in the heart of Bronzeville. Located just minutes from downtown Chicago, you will be able to enjoy a sought after lifestyle where the living is bold, beautiful & bountiful!
Paul G. Stewart offers a variety of floor plans with panoramic city views, and one is sure to fit your individual taste. Paul G. Stewart is one of the few senior communities offering two bedroom apartments! We invited you to come see for yourself.